presented by
An intimate discussion of mental health, community building, and other things software professionals need to talk about more
Heartifacts is a special conference for software professionals that focuses on mental health, community building, and career management.
For 2020, the event is online in order to enable learning, engagement, and sharing experiences while accomodating the unique and unpredictable constraints that the COVID-19 pandemic presents.
Although the mix of live and prerecorded presentations will be streamed, participation in the breakout sessions of the conference is limited to approximately 150 humans in order to enable intimate and familiar conversations about our successes, failures, and where we are on our journey to being what we want to be.
Join us online Wednesday-Saturday, August 12-15, 2020.
Registration includes access to the interactive sessions, such as live Q&A, breakout sessions, and fun activities and covers our expenses such as paying our speakers, organizers, and others who make this event possible. The schedule includes live sessions are a few hours in the afternoon of the first day, a few hours in the evening of the second day, and several hours on the last day. We might even have some additional fun actitivies on the rest day between the second and last day.
Mailing List
Sign up so you can hear all of the latest Heartifacts news including speakers and special events!
You'll be subscribed to C&S' conferences mailing list.
Location
Heartifacts is online for 2020. We continue to investigate the rapidly growing competitors in the field of online conference software, which experienced an incredible explosion in popularity due to the variety of conferences shifting to a virtual delivery.
Rest assured that C&S will choose something that is widely supported, secure, and well-fits the needs of speakers, attendees, and organizers alike.
Interested in sponsoring our production? Keep scrolling for information about sponsorship or check out our prospectus and FAQ.
Sponsors
In order to support events of its size, we rely on sponsors wanting to represent themselves well in the software community to sponsor Heartifacts. Sponsorship of our intimate event is a fantastic opportunity to meet one-on-one with some of the most conscientious developers, designers, and managers the community has to offer.
Read the sponsorship FAQ, Download the Sponsor Prospectus, and contact our sponsorship team by emailing sponsorship@codeandsupply.co.
Interaction Map
We have an interaction map that describes the platforms and interactions possible for this years Heartifacts!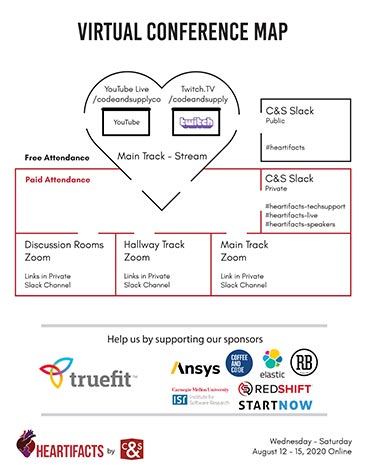 History
Heartifacts was created in 2018 by a tight-knit volunteer team as part of Code & Supply, a community of software professionals located in Pittsburgh, PA. C&S saw room in the national tech conference space for its own take on an event focusing on discussions of technologists' mental health in software careers. Heartifacts was C&S' first all-CFP conference. Attendance was capped to 100 people in order to foster an intimate environment in which participants felt safe talking about work and personal life things that they may otherwise be unable to talk about at work or in their personal life.
We needed this in our own lives as software professionals, and so it was. We added on discussions of community building, as we found that much of creating a space for discussion mental health is rooted in building spaces that are psychologically safe.
We recorded a few of the presentations at the 2018 event. See presentations by John Sawers, Jenny Bramble, Aisha Blake, and Aaron Goldsmith in the Heartifacts 2018 presentation playlist on C&S' YouTube channel. There's also a Twitter list of 2018 speakers.
Nice things people have said about Heartifacts:
Mailing List
Want to be the first to hear as we announce more exciting details? Sign up to our mailing lists.
Team
Questions? Reach out to our team:
Colin Dean, Executive Director
Jenny Manning
Sarah Withee
Jon Shaffer
Brigette Lefever, Atmosphere Coordinator and Graphic Designer
Andy Mook, Sponsorship Coordinator
Greg Chabra
Nate Smith
Beth Lynn Eicher
Jared Wilkerson
Michael N
Special Thanks
Jean Lange
Natalie Boehm
Desy Kristianti
Mark Nutter
Seth Peasley